Comment: Doctor's hours were standardised to protect the public from the possible consequences of mistakes often made due to fatigue. Under the new contract they won't even be remunerated for working unsociable hours. Overall the contract is inherently unfair; doctors spend many years studying at enormous cost since the changes to tuition fees, and should expect the appropriate remuneration at the beginning of their careers, working hours that allow them enough rest and play. If these doctors leave our country it goes without saying that it will have a dramatic affect on the NHS
————————————————————————————————————————————–
General Medical Council reveals 3,468 requests for certificate of current professional status in just 10 days following confirmation of new contracts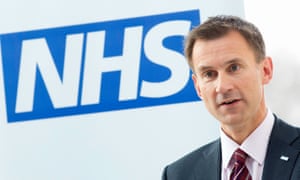 Jeremy Hunt, the health secretary, has not shown any signs of compromising on changes to doctors' working hours and pay. Photograph: Neil Hall/PA
The latest General Medical Council (GMC) figures, provided to the Guardian, show that in the 10 days since the contracts were confirmed, doctors have made a total of 3,468 requests to the regulator for a certificate of current professional status (CCPS), the paperwork needed to register and practise medicine outside the UK. The GMC normally gets 20 to 25 requests a day.
The surge of interest in working overseas could have serious consequences for hospitals and GP services in an already understaffed NHS that is struggling to recruit enough doctors. The new contract has prompted strong public warnings from doctors' leaders that it will deter young doctors from staying in the NHS, make vacancies even harder to fill in key areas of care and endanger the quality and safety of treatment that patients receive.
Jeremy Hunt, the health secretary, has so far refused to show any signs of compromising. Leaders of medical royal colleges are surprised that, despite a grassroots revolt by junior doctors, Hunt has not yet responded to their detailed and strongly worded letter in which they warned that the "imposition of the contracts presents an immediate risk to the provision of healthcare throughout the UK, and an ongoing threat to healthcare for generations to come".
The new terms and conditions, which are due to come into effect in August 2016, will force trainees to accept working more antisocial shifts. Junior doctors, who start on approximately £22,500 a year, are angry that the new contract will extend their routine working hours, in which they are paid at the standard rate, from 60 hours a week between 7am and 7pm, Monday to Friday, to 90 hours a week from 7am to 10pm, Monday to Saturday.
As an update, a doctor explains how the new contract will affect her quality of life:
http://www.theguardian.com/commentisfree/2015/sep/27/gps-trainees-pay-contracts-jeremy-hunt