Can you shop your way to happiness?
'That Smeg fridge expresses something about who you want to be. So you buy it'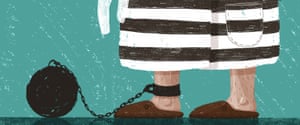 You already knew, of course, that consumerism exploits psychological weaknesses to get us to buy stuff we don't need. We fall victim to "hedonic adaptation" (the way new possessions become part of the backdrop), along with "upward social comparison" (if you succeed in keeping up with the Joneses, you'll just pick new Joneses to try to keep up with). But the Diderot effect adds a twist. We use possessions to help construct our identities, and we need those identities to feel consistent. A consistently shabbily dressed person might be signalling that her mind's on higher matters; a consistently smart one that she values good taste. But someone who's a random mixture of both just seems weird. In the words of the anthropologist Grant McCracken, products are deliberately marketed in "Diderot unities" – groups whereby, once you've purchased one, you'll feel you need the others. Now that you're ordering that new dining table from the catalogue, shouldn't you consider those glasses and plates, too?
More here: http://www.theguardian.com/lifeandstyle/2015/oct/02/shopping-diderot-effect-oliver-burkeman
Comment: I had a new tumble dryer yesterday; I couldn't believe how many settings it has that I will NEVER USE! I must admit though that having new things does make existing things shabby, but I tend to buy things to last. That said, it's definitely the case when you decorate one room, so I would tend to do the other rooms as well.
I can't do that though now, and I must say that being satisfied with dusty walls is quite freeing!