Comment: Sara makes a good analogy here with regard to a point that I've been making to people for years: if the government breaks all human rights laws in Guantanamo bay with just one person, what are they going to do to you?
The fact is Sara, your analogy is actually true: these abuses now continue every day in the U.K., more than 3 people losing their lives (perhaps more, but we haven't all the figures). They didn't fast, they were forced to, and then they either died due to that, or decided that they couldn't take it any more and committed suicide.
The nightmare world you describe is already here, and most definitely 'Kafka-esque'.
————————————————————————————————————————————–
In our cosseted country we assume Shaker's guilt because the alternative is too terrifying – that we have been complicit in detaining and torturing an innocent man.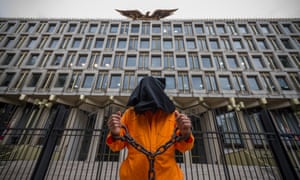 But he must have done something wrong," he responds when I tell him what has happened to Shaker Aamer. "That couldn't happen to an innocent British person."
I am talking to Stephen, an imaginary composite of a few people I have talked to about Shaker since I was made aware of the last British man held in Guantánamo Bay. Stephen isn't an idiot; he appears rational, his trousers are correctly fastened and he thinks of himself as "good" or "kind". Stephen's disbelief is natural – if he accepts that a normal, non-evil man like himself can be kidnapped, tortured and imprisoned indefinitely without evidence or trial, then the world is not as he thought. No one could be safe in a world where justice was side-steppable; it would be too terrifying. "Surely, the guy must have done something?"
Let's pretend we're talking about North Korea, Stephen. Would you buy it then? A North Korean citizen was doing some charity work abroad when he was arrested and taken to a compound in Cuba. Without any court case, hearing or serious accusation, he has been imprisoned for nearly 14 years. "If he was innocent, why didn't they release him?" Good question, Stephen, but the trouble is North Korea let their citizen be tortured; worse, they were complicit and involved in his torture. They don't want the guy to get out and tell everyone about it. It will make them look bad.
"North Korea ARE bad," says Stephen. "Get me Amnesty on the phone immediately," he cries. "I'm upping my direct debit to £6!" Stephen shakes his head while dialling. "They've no respect for life over there," he mutters. "It couldn't happen here." I write: THESE WERE THE ACTIONS OF BRITAIN on a Post-it note and slide it in front of him. I'm worried I've confused him.
More on link:http://www.theguardian.com/commentisfree/2015/oct/12/why-im-fasting-for-shaker-aamer-sara-pascoe